I married my soul mate.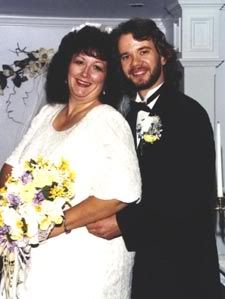 He has since become my best friend. He is an amazing man, fabulous lover, fantastic step-dad (or, as my kids like to call him, Dad), and the best Granddad a kid could have.
I cannot imagine my life without him.
Today was a wonderful day, beginning with prezzies (a new charm for my bracelet) and breakfast at a favorite restaurant and ending with the kids coming over for dinner, champagne and cake.
We watched baseball after they left. He read some of his comics and I worked on the exchange fic which is nearly finished.
Our own "special" celebration was last night. It was epic. Names were screamed. And we both ended up happy.
I am so very lucky to have met him, and I thank the gods every day for the serendipity which led us to each other. (And the SciFi channel's old Dominion Chat room.)