The baby is doing well. Her parents are tired, of course. And because I had some complaints from some folks about not being able to see the baby in my previous pics, here's a close up of her...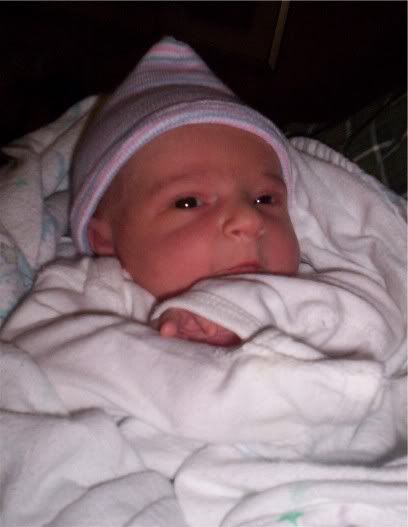 On Thursday, after work, Hubby and I shopped then came home and I made some supper to share. We took the food over to their place and stayed for a while. We took turns holding the baby and entertaining Tyler in order to give Nicole a bit of a break. My son came home for dinner (during his break at work) and so we got to see him for a bit too. At one point, Tyler asked if we were taking the baby home with us. Heh. We had to inform him we were not...he was a bit disappointed, but so far seems pretty okay with his new sister.
I am making a beef stew at the moment which I intend to share. I'm trying to help them out in small ways until they get sort of used to the being tired thing again. Oh, I have a couple of more pics of Hubby holding the baby.
( Behind the cut )
Oh and in other news...hubby is trying to catch my cold. That's just what I need...a sick man in the house.
Pray for me. ;)